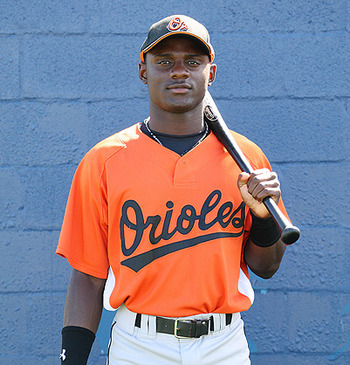 Orioles' OF Xavier Avery
 When I wrote the Frederick Keys Five to Watch post I had assumed that LJ Hoes would be playing 2B in Bowie.  However, the Orioles wanted to give Greg Miclat the first go at second base.  As such, I think Hoes will perform well in Frederick and give Miclat a couple months to prove himself.  In this post, I will give a short summary of five to watch in Bowie as well as something about LJ Hoes.  The rest of Bowie showcases some of the second tier talent in the Orioles' system.  Unfortunately, the Orioles second tier talent would be other teams' third or fourth tier talent.  For example, Zach Britton and Manny Machado were in Baseball America's top 25.  Baseball America forms their top 100 prospects by having their five contributors devise their own individual top 150 lists.  No other Oriole found himself on any of the top 150s.  That is what we call a steep drop in talent.
However, one should not confuse such a steep drop as meaning the organization is without talent past Machado and Britton.  The organization has several C+ / fringe B- players who have a great chance of being solid bench players in the Majors and an off chance at being a regular.  I would say to not expect anything beyond that though.  Bowie is really the epitome of that.  They will have several players this year that might become something, but have significant flaws that they must address or find ways to compensate.
Xavier Avery, CF/LF
Avery has a package of raw skills that scouts can dream upon.  He has great athleticism and strength that was honed as a serious football first athlete in high school.  It has really only been in the past four years that Avery has taken baseball seriously.  That he will be a 21 year old in AA Bowie shows that his natural ability and a capable learning curve has done wonders for his game since he was selected in the second round in 2008.  Although strong, his lean frame does not and should not result in any significant power.  He has increased his power production from his age 18 season (ISO of .057) to last year's age 20 season (.115).  His goal should be to increase it to about .130 in order to keep pitchers honest.  Otherwise, he will be constantly challenged at the Major League level.  His contact rate is league average (not good) and his plate discipline is a shade below average (also not good).  He has also not proven to be completely adept at stealing bases, but not awful.  His lack of skill is overcome by his speed and has resulted in roughly break even marks for successfully stealing bases.  However, he is on a 16 straight stolen base streak without being caught.  His speed also helps him in the outfield making several plays in center.  His first step is not great, but he covers a great deal of territory and has natural control of his body (think of Felix Pie who has great speed and looks quite clumsy...Avery is similar without the clumsiness).  Avery is still developing as a player, so it will be interesting to see what he can do this year.
After the jump, four more Baysox and Hoes.