The calls for Dave Trembley's retire have softened just a bit after the Orioles victory yesterday, which should be tempered as much as the overall record. There really is not much of what Trembley has done that can be considered his fault for the Orioles current state. Similarly, the players have not shown to be listless or turned their backs on Trembley. He seems very well liked and the players do listen to him. That said, fans still like to see a good execution when their team fails and the Orioles have been failing a lot.
Last week
, we looked at in season opportunity to replace Trembley. This week, we will lost at potential off season solutions.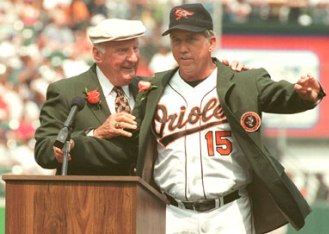 Davey Johnson - Senior Adviser - Washington Nationals
Davey Johnson is someone who Orioles fans long for in that he was at the helm for the O's last winning season. The rocky breakup with Angelos is something any Oriole fan can still recount blow by blow. Johnson's name was one of the first to be mentioned when Perlozzo was fired several years ago. For unknown reasons, he was dropped from the running and the team focused on Joe Giraldi. That did not work out and MacPhail decided to keep with Trembley. Now, Johnson would be staring at age 68 next year, which is rather old for a manager. He has not managed in the Major Leagues since 2000, but has been very much involved in Team USA and the WBC. He would not be able to ride out the rest of 2010 as he has a contract with the Nationals. Some think that contract as a Senior Adviser is merely a holding maneuver for Johnson until current Nats manager Jim Riggleman inevitably fails, allowing Johnson to takes the reigns. That being said, if available, Johnson probably stands a decent chance to be rehired by the Orioles.
Tom Kelly - Special Assistant to GM - Minnesota Twins
Kelly was one of MacPhail's big hirings when he joined the Twins organizations. Kelly lasted his entire term as GM. Under Terry Ryan, Kelly was sort of like the GM's personal cross checker for internal minor leaguers. He worked part-time as a restricted evaluator. I am assuming that under Bill Smith, the same arrangement has been made. Since MacPhail's hiring, Kelly has repeatedly been asked about any potential openings within the Orioles organization, but he has routinely responded that he enjoys his semi-retirement and not having to travel as much as he used to. Based on the information we have, it seems unlikely he would now be interested in managing again.
Joey Cora - Bench Coach - Chicago White Sox
Cora was another coach that was linked to MacPhail when he took over the Orioles' GM position. After retirement as a player, he was groomed in the Mets minor league system until being promoted to the big leagues by Ozzie Guillen in 2003 as a third base coach. He was then promoted to being the bench coach in 2006. On several occaisions, Cora has served as the ChiSox's interim manager. He has also logged time as manager in Venezuela during the off season. His managerial perspective is somewhat of an unknown as Guillen's personality and perspective overwhelms the day to day operation of the team.




Bob Melvin - Scout - New York Mets



Melvin was part of the Why Not? team with the Orioles and played a total of three years in Baltimore. He spent several seasons as a coach in the Diamondbacks system. His MLB managerial career began with a two year stint in Seattle that was uneven with his first season winning 93 games and his second season with 99 loses. He was immediately hired after being let go by the Arizona Diamondbacks in the wake of the Wally Backman fiasco. Melvin led the Diamondbacks to 90 wins and a pennant in 2007, but lost in the NLCS. That year he was awarded the Sporting News and MLB National League Manager of the Year awards. He was fired form the position in 2009 after 29 games. Melvin's handling of a squad is considered a bit frantic. He will often tinker with the lineup and the bullpen to get the results he wants. To many, the results he gets from his tinkering have about the same effect on winning as a fan at home wearing his lucky shirt. This behavior looks genius when the team is winning and desperate when it is not. He is rather well regarded though and is on many GMs' short lists for any opening.



Tony Pena - Bench Coach - New York Yankees



Pena has early success during his tenure in Kansas City as head coach, winning Manger of the Year honors in 2003 with a young team. He is considered a strict disciplinarian with young players and gets a lot out of them. Of course, such a style often will get old without results. He also has a reputation for being a coach who burns out arms and somewhat unfriendly to more recent trends in managerial strategy. He was in the running for the Yankees job after Torre left, but lost out to Girardi. Pena stayed on, remaining as the bench coach. By all indications, he wants to get back to managing a team.


Alan Trammell - Bench Coach - Chicago Cubs



Trammell is perhaps the most underrated SS of all time. He is also largely given too much blame for the Tigers' woeful 2003-2005 time. After winning 5 out of their last 6 in 2003, his Tigers avoiding the embarrassment of finishing with fewer wins than the '62 Mets, Trammell was fired and offered a role in the Tigers front office. Trammell declined, wanting to get back into the saddle. He signed on as bench coach for the Cubs in hopes of restoring that dream and remains there. His teams consisted of young pitching rotations and was thought not to be too taxing on their arms (although almost every single Tigers pitcher from that time has come down with arm problems and have suffered incredibly underwhelming careers). It would be surprising if he did not wind up as the Cubs manager or somewhere else within the next five years.



Harold Baines - 1st base coach - Chicago White Sox



Baines would be a fan favorite. He has been a part of Guillien's coaching staff since the World Series 2005 win. His name rarely comes up for manager openings, but he could be another Eddie Murray or Rick Dempsey interview. His soft spoken style may not work well with the media or fan base. His skills as a manager are largely unknown and untested.



Rich Dauer - 3rd base coach - Colorado Rockies



Dauer would be another legacy interview. He too has been rather unassuming, but is well regarded in Denver.



Don Mattingly - Hitting Coach - LA Dodgers



Mattingly lost out to Girardi and has been thought to be biding his time in LA until he can find a coaching slot. It has been suggested that in the next year or two Torre will retire and Mattingly will take over. Having been burned by the new Steinbrenner/Cashman arrangement, he may have second thoughts trusting that the current Dodger leadership will remain with their owners' divorce proceedings. Baltimore may be interested in trying to hire him on as an offensive oriented manager with playoff experience, but Mr. Baseball probably wait for a better team to open up. Certainly, a better team if he was going to the AL East and having to face his Yankees.



Dave Martinez - Bench Coach - Tampa Bay Rays



Martinez and MacPhail know each other well from their Cubs years'. Martinez is often mentioned as a peripheral candidate for several teams, which may merely be due to the fact he has been associated with many teams over his career and has been thought of as being a manager type. He would be another untested commodity.


John Farrell - Pitching Coach - Boston Red Sox



Farrell would be the person I would be most interested in coming to the Orioles as a coach. He cut his teeth with the Indians as the Director of Player Development for the Cleveland Indians from 2001 to 2006. Not incredibly gifted in a Joe Jordan role in my opinion, but he certainly was competent. For the past three years he has been the pitching coach for the Red Sox. Coming up through player development, coaching young pitchers (i.e. Jon Lester), and being a part of a highly competitive and intense baseball environment (Boston); I think Farrell could be an excellent option as a manager. I think he would prove to be a very useful voice and give good feedback to our stable of young pitchers. His contract included a very strict retention clause and it was thought to prevent him being hired by the Indians this past off season. This upcoming off season, the contract is over and Farrell should be on of the most eagerly sought after rookie managers.